ProPharma Launches an Integrated MedTech Organization Providing End-to-End Solutions for Innovators
ProPharma Group, the world's largest Research Consulting Organization (RCO) and the leading global provider of regulatory, clinical and quality compliance services for the life sciences industry, has today launched a new Integrated Global MedTech Practice to provide end-to-end solutions for medical technology companies.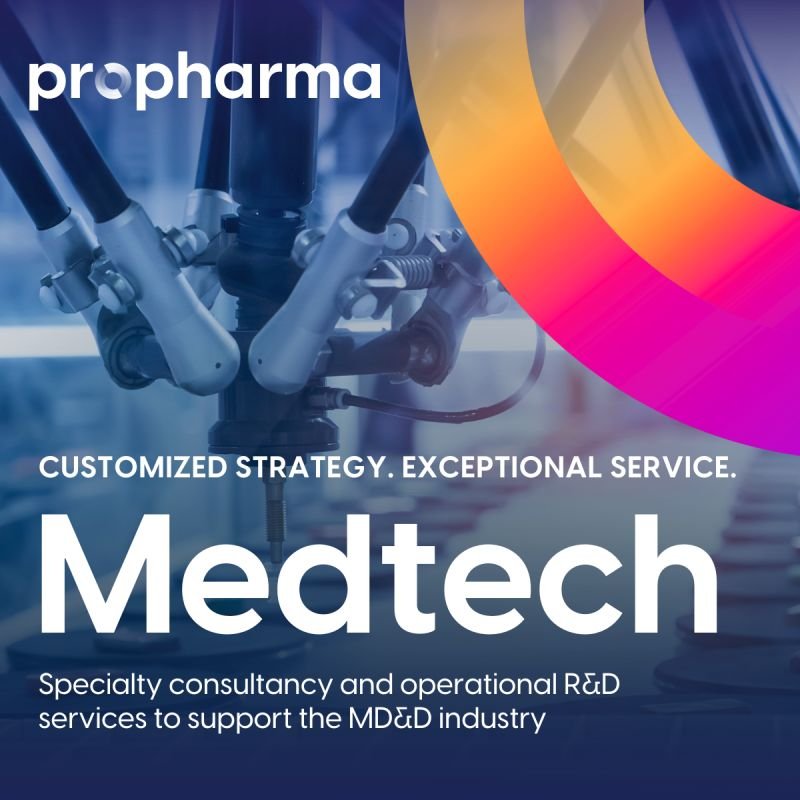 As a portfolio company of Odyssey Investment Partners, ProPharma leverages decades of experience in expanding its presence with a new MedTech Team, offering comprehensive capabilities across the entire product lifecycle. The MedTech organization includes Regulatory Strategy, Clinical Strategy and Development, Quality Management and Compliance, Market Access and Reimbursement, and Post Market Surveillance.
ProPharma's new, holistic approach to MedTech solutions will catalyze client growth by promoting efficiency, speed, safety, and innovation. The company has combined and augmented their stand-alone groups, bringing together unmatched knowledge in the areas of global regulatory standards and strategy development, clinical research execution, quality management, market access, and emerging device and diagnostic technologies, positioning ProPharma MedTech clients for global commercialization success in the quickly evolving healthcare industry.
At the core of ProPharma's capabilities is its Regulatory Strategy expertise, helping clients navigate the ever-changing and complex world of global regulatory frameworks. This includes submission strategy and management for U.S. FDA, Europe's Notified Bodies and other international authorities, acting as the health authority liaison, providing scientific advice, and labeling development and review. ProPharma's MedTech team will help craft a regulatory strategy to ensure efforts are focused on the right activities to support an accelerated market entry of the most competitive product, while also supporting the most efficient and effective market expansion within and across geographies.
ProPharma MedTech provides full CRO services tailored specifically to MedTech clients, including clinical strategy & study design development for early feasibility, nonsignificant risk, usability/human factors and pivotal device and diagnostic studies. ProPharma helps clients shape clinical strategies and study protocol development and manages execution of large multicenter and international trials. The group also provides biostatistical and data management consulting, market access and reimbursement support, harnessing ProPharma's expertise in evaluating payer landscapes and local requirements – helping clients to maximize the reach and affordability of medical technology products.
Additionally, ProPharma offers extensive Quality Management and Compliance services, ranging from training on MedTech quality requirements, initial QMS establishment, gap assessments, design control support, software validation, and manufacturing transfers. The team offers auditing of both manufacturers and suppliers, as well as support during regulatory body inspection audits, and provides remediation assistance in response to audit findings, 483s and warning letters. Globally, ProPharma MedTech supports clients with import and export activities in their target markets, including economic operator requirements under MDR and IVDR, performing roles such as the AR and PRRC.
ProPharma's Post Market Surveillance & Life Cycle Management services extend to device vigilance in the EU, a full service offering in the CER/PER space, device reporting and surveillance, and product complaints management. ProPharma MedTech supports both remediation activities when concerns are identified in the device reporting process and routine support to ensure the safety and effectiveness of medical devices throughout their lifecycle.
ProPharma's MedTech team specializes in Devices, IVDs, Combination Products, and Companion Diagnostics covering strategies across myriad therapeutic areas and indications for use. The company also has expertise in areas critical for developing breakthrough technologies such as the evolving Laboratory Develop Test (LDT) regulatory landscape, Software as a Medical Device (SaMD), Wearables, Real-World Evidence (RWE), Digital Therapeutics (DTx), and Decentralized Studies.
"ProPharma's new MedTech practice has extensive experience and offers scalable solutions tailored to client needs, regardless of size or geography," says Dr. Ronald Freeze, Ph.D., Global Head of Medical Technology at ProPharma. "This holistic approach ensures that medical technology innovators receive the support they need at every stage of their product's journey."